Arena
| | |
| --- | --- |
| | |
Parking at the Civic Center
The Civic Center has ample parking for all events. The most convenient way to access the Civic Center parking lot is on the north side of the building from the intersection of Veterans Parkway and Victory Drive. For most events (including Lions games), there is no parking fee.

From the north (Atlanta, LaGrange):
Take I-85 South to I-185 South (Exit 21). Take I-185 South to Exit 10 (US 80). Take the first exit to US 80 West (towards Phenix City). Once on US 80, take Exit 1 (2nd Avenue/Downtown Columbus). Continue on 2nd Avenue to 13th Street. Take a left onto 13th Street and proceed two blocks to Veterans Parkway. Turn right onto Veterans Parkway. The Civic Center will be nine blocks straight ahead of you.

From the south (Cusseta, Albany):
Take GA 520 (US 27/280) north through Fort Benning into Columbus. It will become Victory Drive. Continue on Victory Drive towards Phenix City. At the intersection with Veterans Parkway (the final traffic light before crossing into Alabama), the South Commons Complex will be on your left. Turn left into the South Commons Complex. The Civic Center will be directly in front of you. civic_center_map.gif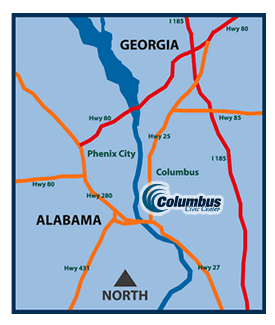 From the east (Macon):
Take US 80 West into Columbus. Take Exit 1 (2nd Avenue/Downtown Columbus). Continue on 2nd Avenue to 13th Street. Take a left onto 13th Street and proceed two blocks to Veterans Parkway. Turn right onto Veterans Parkway. The Civic Center will be nine blocks straight ahead of you.

From the west (Auburn/Opelika, Montgomery):
Take I-85 North to Exit 62 (US 280/US 431). Turn right at the end of the ramp onto US 280 East/US 431 South. Continue for approximately 25 miles, crossing the state line and the Chattahoochee River into Columbus. Turn right at the first red light into the South Commons Complex. The Civic Center will be directly in front of you.